01- Dark Prince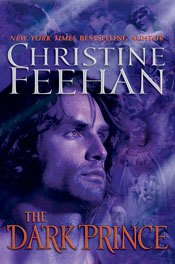 Carpathians are an immortal race of beings with animal instincts. Every Carpathian male is drawn to his life mate: a Carpathian or human female able to provide the light to his darkness. Without her, the beast within slowly consumes the man until turning vampire is the only option.'
Raven Whitney is a psychic who has used her gift to help the police track down a serial killer. Now she is determined to escape the glare of recent publicity for the peace and quiet of the Carpathian Mountains. Prince Mikhail Dubrinsky is the leader of his people but, as his ancient Carpathian race grows ever closer to extinction, he is close to giving in to the heavy weight of loneliness and despair. From the moment their minds touch, Raven and Mikhail form a connection. But there are those who incorrectly view all Carpathians as vampires, and are determined to give their extinction a helping hand.
02- Dark Desire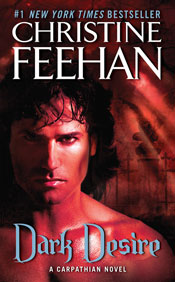 Seven years ago, Dr Shea O'Halloran experienced an unexpected and horrendous pain unlike anything she had ever known. It felt as if she were being tortured. Eventually the pain disappeared, but Shea never forgot. She has since devoted her life to trying to understand the cause of the rare genetic blood disorder that is slowly killing her. The answers to some of Shea's questions start to reveal themselves when she is approached by two men, who accuse her of being a vampire. Shea runs for her life and - following a feeling she can't explain - her desperate wanderings lead her to Romania. The ancient one known as Jacques Dubrinsky can explain. Seven years ago, Jacques was captured, tortured and buried alive by several humans and a Carpathian betrayer. The years of extreme pain and lack of sustenance that followed have nearly driven Jacques insane. He has been using what is left of his powers to psychically draw Shea to the region. But is Shea to be his healer or his prey?
03- Dark Gold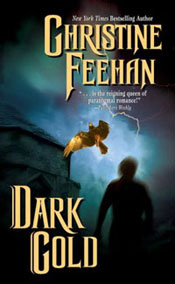 Alexandria Houton will sacrifice anything to protect her little brother. But when they both encounter an unspeakable evil in the swirling San Francisco mists, Alex can only pray for their deliverance...And out of the darkness swoops Aidan Savage, a being more powerful and more mysterious than any other creature of the night. This ageless Carpathian male has saved them both from a hideous fate. But is Aidan truly Alexandria's salvation...or her ultimate betrayer? And if she surrenders to Aidan's savage, unearthly seduction is Alexandria in danger of sacrificing more than her life?
04- Dark Magic
Savannah Dubrinsky is a mistress of illusion, a world-famous magician capable of mesmerising millions. But there is one man she fears: Gregori, the Dark One. With a dark magic all his own, Gregori - the most powerful of Carpathian males - whispers in Savannah's mind that he is her destiny. That she was born to save his immortal soul. And now, here in New Orleans, the hour has finally come to claim her. To make her completely his. In a ritual as old as time... and as inescapable as eternity.
05- Dark Challenge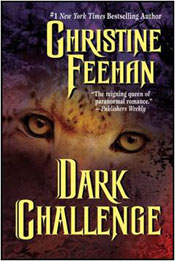 Carpathian vampire hunter Julian Savage is powerful but tormented. But he has one last duty to fulfill before he gives himself over to the dawn and certain death. He has to warn the famous singer, Desari, that she is being targeted by vicious human vampire hunters who will stop at nothing to hurt those they believe are vampires. But when Julian hears Desari sing he realises she is the woman he has always sought - his lifemate. Desari is most definitely Julian's match but she has great powers of her own. And she is not happy when a mysterious stranger enters her mind and begins giving her orders!
06- Dark Fire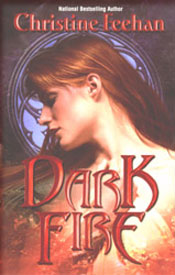 When Darius, the leader of a small band of Carpathian musicians, first sees the new mechanic hired to work on the band's touring vehicles, he is astonished to see the red colour of her hair. It has been centuries since he last saw colours or even felt emotions. Although mechanic Tempest Trine needs the job, she quickly realises she's bitten off more than she can chew. Tempest has always felt different, apart from others. But from the moment his arms close around her, enveloping her in a sorcerer's spell, Darius seems to understand her unique gifts. But does his kiss offer the love and belonging she seeks, or a danger more potent than anything she has ever known?
07- Dark Dream
She's known him since she was fifteen. Every night, he is with her: his face, his voice. Tonight, Sara Marten will meet the man who is both angel and demon, salvation and temptation: Falcon—the Carpathian, the banished hero. Tonight, Sara will meet the dark-eyed destroyer destined to be her mate.
08- Dark Legend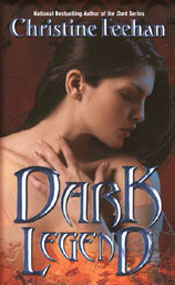 He woke deep within the ground, and the first sensation he felt was hunger. An overwhelming hunger for blood that demanded satisfaction. But as he hunted the dark streets of Paris for prey, a voice called to him, soothing, calming, giving him the strength to control his craving.
Francesca Del Ponce was a healer, a woman who radiated goodness as powerfully as the sun did light. But surely his obsession with her would turn him as his twin brother had turned, leaving the world with two monsters instead of one.
09- Dark Guardian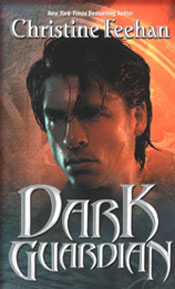 Jaxon Montgomery is a woman hunted. Trained by the Special Forces, honed by a traumatic childhood, she is a policewoman with an undisputed reputation. She meets her match when she is set up to be murdered by an enemy. Hunted on all sides, she can only turn to the mysterious stranger who seems more dangerous than any other she has ever known.
Materialized from the mists…
Hijacked the very heavens to his whims…
10- Dark Symphony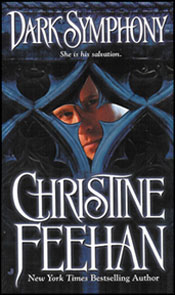 Blinded and scarred in a terrible accident, Antoinetta Scarletti made music that thrilled the world with its beauty and passion. Descended from a long line of psychics, Antoinetta has learned to rely on her other senses to "see" the world around her, but nothing could have prepared her for Byron. He came to her, drawn by her music, and became her secret obsession. Others fear him, sensing that he is dangerous—a predator—but for Antoinetta he is her ultimate fantasy, her dream lover. He woos her with kisses full of erotic allure, whispering that she is his light, his salvation. Byron has waited an eternity for her, and he will let nothing stand between him and the woman born to be his lifemate...
11- Dark Descent
For Each, There Could Be Only One: They came from the darkest places: secluded monasteries, the Carpathian mountains, galaxies under siege. They were men with the blackest pasts-warriors, vampire monks, leaders of armies-but whose passions burned like dying stars. They had one purpose: to find those women who fulfilled them, completed them, and made them rage with a fire both holy and profane. They sought soul mates whose touch consumed them with desire, yet whose kisses refreshed like the coolest rain. And each man knew that for him there was only one true love-and in finding her, he would find salvation.
12- Dark Melody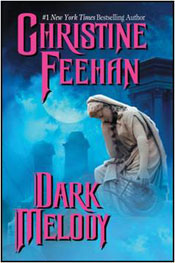 Lead guitarist of the Dark Troubadours, Dayan was renowned for his mesmerizing performances. His melodies stilled crowds, beckoned, seduced. And always, he called to her to complete him. Corinne Wentworth stood at the vortex of a gathering storm. Pursued by the fanatics who'd murdered her husband, she was risking her life by keeping more than one secret. Fragile, delicate, vulnerable, she had an indomitable faith that made her fiery surrender to Dayan all the more powerful.
13- Dark Destiny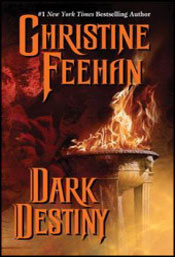 Her childhood had been a nightmare of violence and pain until she heard his voice calling out to her. Golden and seductive. The voice of an angel. He had shown her how to survive, taught her to use her unique gifts, trained her in the ancient art of hunting the vampire. Yet he could not bend her to his will, no matter how great his power.
14- Dark Hunger
He is Riordan
…Carpathian male. Immortal. Seer. Now trapped and caged, his honor is compromised by his captors. They're in his mind. They're in his blood. And not one can withstand his desire for revenge.
She is Juliette
…A beautiful activist devoted to the liberation of animals from the foul and humid confines of secret jungle lab. What she has stumbled upon is an unexpected prisoner like no other she has ever seen. Or touched.
She will release him from his bonds. He will release her from her inhibitions. Both have a voracious appetite that needs to be sated. And tonight their dark hunger will be fed…
15- Dark Secret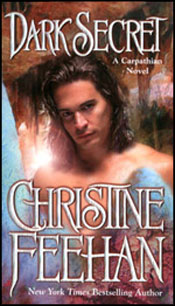 Christine Feehan has thrilled legions of fans with her seductive, sensual Carpathian tales. Now, she presents the enthralling story of Rafael, a savage hunter from the darkest jungles, and the beautiful prey he would never let escape.
16- Dark Demon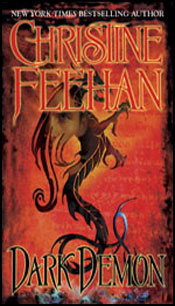 Christine Feehan has worked magic on a legion of fans with her darkly thrilling Carpathian tales. Now she delivers the provocative tale of a female vampire slayer who proves as seductive—and mysterious—as the night dwellers she stalks…
For as long as she can remember, Natalya has been fighting demons: first in the form of childhood nightmares, then later, immortal creatures that kill and prey on the innocent—including her own twin brother. Whether Carpathian or vampire, she slays those who murder by night, and has no equal—until she is seduced by the very thing she considers her enemy…
A Carpathian who has seen nearly everything in his endless existence, Vikirnoff didn't think he could be surprised anymore—until he faces a woman who rivals him as a vampire hunter. A formidable and gifted warrior in her own right, Natalya has a nature that is strangely familiar—yet alien—to his own. Who is this mysterious female who fears no one—not even him? Natalya could be the key to the survival of the Carpathians, but all Vikirnoff is certain of is that she is the key to his heart and soul…
17- Dark Celebration
With her erotically charged Carpathian tales, Christine Feehan has enthralled a legion of fans, captivating them with a seductive world and the unforgettable characters-both human and not-who inhabit it. Now, she reunites all of them in a Dark Celebration...
18- Dark Possession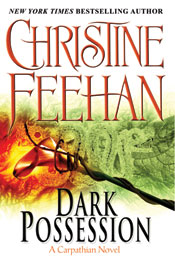 Vampire Manolito De La Cruz has caught the scent of his destined lifemate in MaryAnn Delaney, an all-too-human female who'd never surrender herself to an aggressive and brutish Carpathian male. But maybe MaryAnn doesn't have a choice.
19- Dark Curse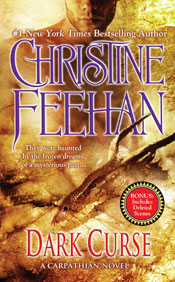 Born into evil and ice, Dragonseeker Lara Calladine longs to find the source of her nightmares. The only man who can help her is Nicolas De La Cruz who, for centuries, has longed to feel the sensual love of a woman without a hunger for blood. He's found the perfect mate in Lara. But their mysterious pasts share a secret that could destroy them both.
20- Dark Slayer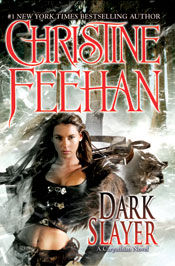 Ivory Malinov has lived centuries without love. Then she picks up the scent of a man. Her salvation. Her lifemate. The curse of all Carpathian women. He is Razvan, a dragonseeker. In spirit, in flesh and in blood, in love and in war, Ivory and Razvan are made for each other. For as long as they dare to live.
21- Dark Peril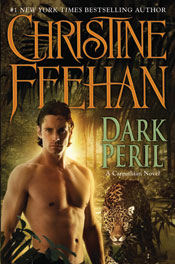 There's only one way for Dominic-one of the most powerful of the Carpathian Dragonseekers-to learn the secrets of the enemy: ingest their parasitic vampire blood, infiltrate the camp, and relay the information to the Carpathians. But to do it, he first has to make it out of the camp alive.
22- Dark Predator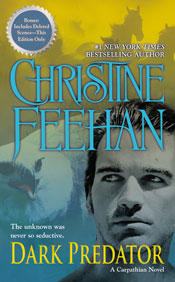 As brutal as the undead he hunted, executioner Zacarias De La Cruz's savage journey is over. After a thousand years in a gray world, he has accomplished everything he set out to do. His brothers are safeguarded, and each has a woman who completes him. But with his centuries as a killing machine now left to the past, and without a hunt to define him, Zacarias wonders, for the first time in his life, who he really is.
The answer awaits him in the vengeance of an old enemy, in the consequences of a bloody family legacy and in Marguarita, a woman he once saved—his lifemate, his deliverance,

and the greatest risk yet to both their lives.
23- Dark Storm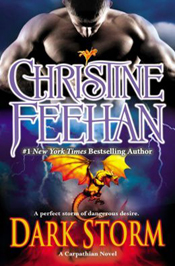 Buried alive for hundreds of years in a volcano in South America, Dax worries that he has become the abomination that every Carpathian male fears, a victim of the insidious evil that has crept relentlessly into his mind and body over the centuries. But Dax isn't the only one emerging from the darkness…
His name is Mitro, and he once stood by the side of the prince of the Carpathian people. Now he is the epitome of malevolence, and perpetrator of one of the most shocking killing sprees known to man. No one escaped the bloodshed, including his lifemate, Arabejila.
Now, between Dax and Mitro, a violent game has begun—one that has marked Riley Parker, the last descendent of Arabejila, as the reward.
24- Dark Lycan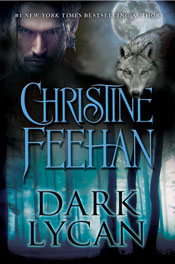 Tatijana of the Dragonseekers spent centuries encased in ice with her sister, trapped in limbo between life and death, never speaking to a soul other than those who tormented her. Now, she has been freed from her frozen prison by an unknown descendent. Awakened in human form, Tatijana yearns to explore the modern world in which she now lives—a world with more mysteries than she is prepared for.
Fenris Dalka has returned to the Carpathian Mountains after a long absence to be with his brother. He is scarred by centuries of battle, and every hard-won victory. But the real reason for his return home could prove deadly if discovered by the wrong man—or woman. Upon his arrival, he is compelled by a beautiful and enigmatic stranger who carries the scent of fresh earth, of forest, of the night itself.
In time Tatijana and Fenris will discover all that unites them—their secrets and pasts, their predators, and the hot flush of passion that stirs their souls. Yet just as surely, seduced into the silvery darkness of a full-moon night, they'll also discover everything ancient and evil that exists to destroy them.
25- Dark Wolf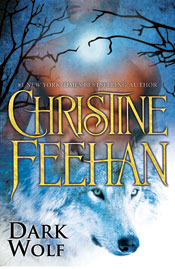 In
Dark Lycan,
Christine Feehan journeyed into the heart of the Carpathians, and into the souls of two lifemates stirred by the flush of passion and the threat of annihilation. In Dark Wolf, the breathtaking story continues as the bonds of family are imperiled, and the fate of two lovers lies hidden in the seductive shadows between life and death.
Skyler Daratrazanoff always recognized the miracle that was Dimitri Tirunul, a man beyond any dream that had ever engaged her nights. But she was human. Vulnerable. He was Carpathian. Nearly immortal. She was nineteen. He was an ancient. Yet she held half his soul, the light to his darkness. Without her, he would not survive. Caught between the two warring species, Dimitri has spent centuries hunting the undead to keep his people free, and humans safe. He had survived honorably when others had chosen to give up their souls. But now, marked for extermination by the Lycans, Dimitri found himself alone, and fearing for his life. But salvation was coming…
No Lycan would ever suspect someone like Skyler to dare mount a secret rescue operation. A teenage girl. A human of untested abilities. But she had something no one else had. She was predestined for Dimitri—as he was for her. And there was nothing stronger for Skyler than her desire to see her life-dream come true. Whatever the risk.
At long last you are truly back with us . . .
Zev Hunter was an elite warrior, a dark-blood dealer of death to rogue Lycans who preyed on mankind. He was a loner, never given to personal attachments, and damned fierce at his job. But Zev begins to question his past and his purpose when he awakens in the darkness of the sacred cave of warriors-and is soothed backed to consciousness by the sensuously familiar voice of one woman, the woman who has haunted his fantasies for centuries. She was Branislava, member of the Dragonseeker clan . . . Mother Earth called the ancients to witness your rebirth . . . For this half-mage, half-Carpathian temptress, the ritual of awakening Zev to the council of warriors was the only way to save him.
Locked away for his own protection, the time has now come for his rebirth, for his blood to stir with that of the ancient warriors before him. He has been assured by Branislava that their fates are entwined, that their spirits are woven together for eternity and that his new purpose in life is beyond imagining. Now, with a blood-sworn vow of honor, mercy and endurance, and under the influence of a siren as bewitching as Branislava, Zev begins to wonder what his purpose is, what it means for the future of the Carpathians and what it is about his rebirth that he has to fear...